Many pet owners face the dilemma of what to do with their furry friends when they can't be around to take care of them. Two popular options for dog care are daycare and boarding. While they both provide help in taking care of your pets when you can't, they have different features and are suitable for different situations. In this post, we will discuss in detail the difference between doggie daycare and boarding for dogs.
Daycare for Dogs
Dog daycare services are similar to daycare services for humans. In dog daycare, a group of dogs are dropped off in the morning and spend the day playing, socializing and resting while being supervised by trained pet care professionals. Typically, daycare services operate during standard business hours, from 6-12 hours a day.
One of the main advantages of dog daycare is that it's a fantastic way to socialize your dog. Dogs are pack animals and thrive when they're part of a group. Daycare gives them ample space and time to play with their peers, which helps minimize their anxiety and loneliness. Furthermore, supervised playtime can help develop their social skills, teach them better self-control and provide them with excellent mental stimulation.
Another advantage of dog daycare is that it provides your dog with plenty of exercise. Dogs are highly energetic and require at least an hour of exercise each day. With daycare, your pet can have a blast playing and running around with other dogs, which helps them get their daily dose of exercise. Moreover, daycare services are ideal for dogs that have separation anxiety or behavioral issues, such as destructive chewing or excessive barking, as it keeps them occupied and can be helpful in managing their behavior.
However, dog daycare might not be suitable for every dog. For instance, shy and introverted dogs might feel overwhelmed in group settings and prefer solo activities. In addition, dogs that are highly aggressive may not be allowed to participate in group play for safety reasons.
Boarding for Dogs
Boarding for dogs is a service where your pet stays overnight at a boarding facility supervised by trained staff. In many cases, boarding is a great option when you're out of town or unable to care for your dog overnight. Boarding provides pets with a comfortable environment while giving them the attention and care they need.
One of the main advantages of boarding is that your dog will be closely monitored by trained professionals. Boarding facilities provide 24/7 supervision that ensures your pet stays safe and healthy. A pet boarding facility will also provide a comfortable and familiar environment for your dog, with means of social interactions when they are not sleeping. Another benefit of boarding is that it provides your dog with balanced meals, exercise and other activities to keep them well-nourished, engaged, and entertained.
However, just like daycare, boarding may not be suitable for every dog. Dogs that are highly anxious and uneasy in unfamiliar environments may not adapt well to boarding or become stressed when away from their owners. In addition, dogs with separation anxiety may struggle during boarding, which can cause the dog to harm themselves or become emotionally unstable.
Which Option to Choose?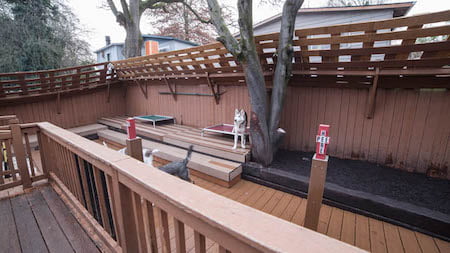 The choice between daycare and boarding for your dog depends primarily on your pet's personality, temperament, needs and schedule. If your dog is outgoing, energetic, loves to socialize and needs an energy outlet, daycare may be an excellent option. Whereas, if your dog requires specific dietary or medical needs while you're away on vacation or a business trip, boarding is the best choice.
If you're still not sure which option to choose, consider getting advice from a professional. An experienced pet care provider can help you determine if daycare or boarding is the right choice for your dog.
In conclusion, dog daycare and boarding offer invaluable services for pet owners who can't care for their furry friends. Both have pros and cons, so choosing the suitable option depends on various factors. Ultimately, the most important thing is to ensure that your pet gets the attention, care, and exercise they need to stay happy and healthy.
Your Local Dog Boarding & Doggie Daycare Facility In Portland, OR
Safe Journey Dog Boarding is Portland, Oregon's premier place for dog overnight cage-free boarding and dog daycare. At Safe Journey, your four-legged friend will always be free to roam, play, and socialize 24 hours a day, 365 days per year. With us, you don't have to worry about the quality of care your pet is receiving after drop-off. Our dog boarding and dog daycare facility provides a safe, comfortable, relaxed, home-style environment for your dog. This minimizes your and your dog's stress and anxiety while you are away. Our high-frequency dog visitor clientele helps ensure that your dog is able to hang out with a well-mannered dog pack. Many of your dog's playmates at Safe Journey have spent hundreds and even thousands of days here with us.
What we offer:
A cage-free environment
A fun environment for your pet
A comfortable environment for your pet
An outdoor space for your dog to play (outdoor play yard)
Indoor facilities
Off-leash, open-play environment
Overnight boarding services
And More!
Your peace of mind is important to us. That is why if you have any questions or concerns, feel free to check out our FAQ or call us today.