As any pet owner knows, keeping your furry friend healthy and happy is a top priority. That's why it's important to be aware of potential health problems that could affect your pet, like giardia. If your dog has been diagnosed with giardia, or you suspect they might have it, you might have many questions. As your local doggy daycare/ dog boarding facility, we have decided to write a blog post about what giardia is and how you can prevent your pet from exposure.
WHAT IS GIARDIA?
Giardiasis is an infection caused by a type of parasite known as Giardia. These parasites are shed in cysts through an infected animal's feces, which allows the cysts to come into contact with the surrounding environment. Giardia cysts can be transmitted to animals who simply sniff the dirt or feces where the parasite is present. It can also be transmitted through drinking infected water. Because of the prevalence of these cysts, most adult dogs are considered carriers of giardia, even if they do not show symptoms. Humans can also contract giardiasis from contact with contaminated soil or water.
WHERE CAN A PET BE EXPOSED TO GIARDIA?
Dogs can be exposed to giardia in a number of ways. The most common is through contact with contaminated water, either through drinking or swimming. Giardia can also be transmitted through contact with contaminated food or with other infected animals. In some cases, giardia can be spread by contact with contaminated surfaces, such as soil or sand. To reduce the risk of exposure, it is important to provide dogs with clean water and to avoid letting them drink from puddles or ponds. It is also important to keep them away from areas where other animals may have defecated.
GIARDIA SYMPTOMS AND TREATMENTS
Symptoms of giardia include diarrhea, vomiting, weight loss and abdominal pain. With that said, animals can be carriers of the parasite and show no signs of illness, making it important to practice good hygiene when handling animals. Giardia is usually diagnosed through a stool sample, and it can be treated with medication, typically with antibiotics. In severe cases, hospitalization may be required. If you think your dog has giardia, please consult your veterinarian. Untreated Giardiasis can lead to serious health problems.
CAN A DOG TRANSMIT GIARDIA TO THEIR OWNER?
While Giardia is most commonly spread through contact with contaminated water or food, it is possible for the parasite to be transmitted from a dog to its owner. In fact, there have been several reported cases of Giardia infections in humans who have had close contact with infected dogs. However, it is important to note that the risk of transmission can be greatly reduced by practicing good hygiene and ensuring that your dog receives regular vet check-ups.
HOW CAN YOU HELP PREVENT YOUR PET FROM CONTRACTING GIARDIA?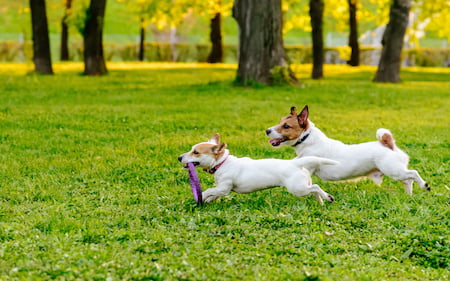 There are a number of ways to help prevent your dog from contracting giardiasis, a common gastrointestinal disease caused by the parasite Giardia. First, make sure your dog has access to clean water and always provide fresh, clean water after outings. Second, pick up your dog's feces promptly and dispose of them properly to prevent the spread of the parasite. Third, avoid letting your dog drink from stagnant bodies of water. Fourth, if you suspect your dog may have been exposed to contaminated water, contact your veterinarian for testing and treatment options. Finally, practice good hygiene yourself by washing your hands after handling your dog or any waste products. By taking these simple precautions, you can help keep your furry friend safe and healthy.
YOUR LOCAL DOG BOARDING FACILITY/ DOGGY DAYCARE
Safe Journey Dog Boarding is Portland, Oregon's premier place for dog overnight cage-free boarding and doggy daycare. At Safe Journey, your four-legged friend will always be free to roam, play, and socialize 24 hours a day, 365 days per year. With us, you don't have to worry about the quality of care your pet is receiving after drop-off. Our dog boarding and dog daycare facility provides a safe, comfortable, relaxed, home-style environment for your dog. This minimizes your and your dog's stress and anxiety while you are away. Our high-frequency dog visitor clientele helps ensure that your dog is able to hang out with a well-mannered dog pack. Many of your dog's playmates at Safe Journey have spent hundreds and even thousands of days here with us.
What we offer:
A cage-free environment
A fun environment for your pet
A comfortable environment for your pet
An outdoor space for your dog to play
Indoor facilities
Off-leash, open-play environment
Overnight boarding services
and more! If you have any questions or concerns, feel free to check out our FAQ or call us today.