How do you choose the right dog daycare facility?
Doggie daycare has become a very popular option for pet owners and their dogs, giving them a place run off their energy off and socialize while their people are at work. It's so popular, in fact, that it may be hard to know which daycare is the best fit for your furry friend. So how do to find a safe and responsible dog daycare in Portland that both you and your pooch both love?
You can find dog daycare facilities in many places. From trainers and groomers to pet stores, and even people offering their own dog daycare from their home, the choices can be overwhelming. Below are a few things to look for when you start your doggie daycare search.
Is Daycare Right for Your Dog?
Before you can decide which daycare is best, you need to understand if it is the best option. Would you describe her as high-energy, or does she suffer separation anxiety? These are definitely reasons to consider dog day care. But if she struggles with dog-aggression issues or has an unsettling temperament, daycare is likely not the best place for her. Start with your own assessment of your beloved canine and when you do talk to daycare's, be honest about her behavior with them.
Visit the Daycare Location with Your Dog
Taking your dog to the daycare facility you are interested in is the best way to determine if it is a good fit for both of you. All dogs have individual temperaments and may not get along with the other dogs there. A trustworthy daycare will offer an assessment or try-out process to ensure it's a good fit for all involved. If they do not allow this, it is best to move on to the next place.
You should actually have her visit more than once. On her second visit, if she is excited to run through the door, wagging her tail, you can feel fairly certain this is the place for her.
Day Care Location and Hours
One important determining factor in finding a dog care facility is how close it is to your work and/or home. Equally important are their hours of operation. Their drop-off and pick-up times need to work with your own schedule.
What Does Dog Daycare Cost?
Depending on how often your dog will be there the cost of daycare can add up quickly.  Typical rates are around $15 to $30 per day but may vary depending where you are located. Some daycare's offer incentives to attract your business such as half-day rates multi-dog discounts.
Condition of the Dog Daycare Facility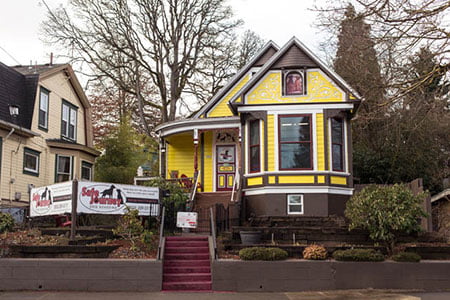 First and foremost, the daycare must be bonded and properly insured. You don't want to be on the hook for medical costs or property damage if something happens to your dog or your dog causes damage while in their care. Make sure there is plenty of room for your dog to play and run around, both indoors and out. Inside, your dog should have about 70 to 100 square feet of space to run around off leash. For outdoor space, it should be more than just a place for your dog to do his business. The outdoor spaces should have shade, a source of clean water, and tall fences. For everyone's safety, small dogs and large dogs should have separate play areas.
You can't expect a dog daycare to be so clean that you can eat off the floor, but it should be tidy and smell decent. Find out how the daycare cleans and disinfects its facility throughout the day and at the end of the day. Look to see if the play areas and crates are in good condition, clean, and safe for your dog. Take a look around and make sure accidents are cleaned up quickly, and the other dogs look healthy.
Get to Know the Daycare Staff
There are a number of questions you should ask about the staff to ensure that they are qualified to care for your furry loved one:
Are they trained professionals or high-school students looking for extra cash?
What is the dog to staff ratio? (Best case is one human for every 10 to 15 dogs)
What is the daycare's procedure for managing an emergency?
How does the staff handle dog fights or a dog who is playing too aggressively?
There should be a live body with the pack at all times. Proper manners among the dogs is important and should be encouraged by staff members. You should be able to tell immediately that they like their job and they want to get to know your pup. Commitment to every dog's safety and well being is paramount meaning the staff is present with the dogs, not watching from a monitor.
Communication with Daycare Clients
How does the facility keep in touch with their clients both daily and in case of an emergency? Many daycare's have a live webcam or a daily Facebook photo album so you can see what your dog is up to during the day. But they should also be able to reach you if there is an issue with your pet or with the facility itself.
Other Daycare Services
There are a plethora of other services that dog daycare's may offer. Some are part of a full service pet business that also includes grooming, boarding, training, or veterinary care. Yet other high-end areas may include more upscale amenities, such as spa treatments and hot meals. It can be a reassuring experience for your pup to be in a familiar place every day, as well as convenient for you. Be sure to ask what else is offered by your Doggy Daycare.
By doing thorough research, you can feel more confident when deciding on a dog daycare for your beloved pup. At Safe Journey Dog Boarding, we promise to provide a safe, comfortable, relaxed, home-style environment for your dog. Come on down and see why our clients love having their dogs stay with us!