Doggie Sleepover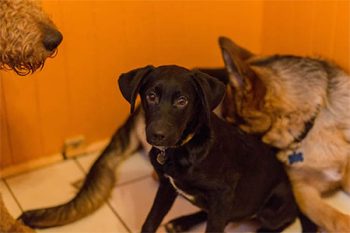 Overnight dog boarding might sound scary, but it is beneficial to many people. Professionals that work overnight or graveyard shifts can utilize dog boarding, so their furry friend isn't home alone throughout the night. At Safe Journey Dog Boarding, we provide overnight dog daycare services, so your dog isn't without company.
This service is also helpful for people going on vacation, and we recommend reserving in advance, especially for busy holidays like Christmas and Thanksgiving. Your dog will feel right at home in our comfortable Victorian-style home. We don't have any crates, kennels or cages. So if your pup is anxious about being in an enclosure, there's no need to worry.
Packing For Your Dogs Overnight Stay
We do have requirements and suggestions for what you should bring. Up to date vaccinations are required for all the dogs at our daycare. We want to ensure a safe and healthy visit for all of our furry friends. Bring any medication that your dog needs during their stay, along with instructions for the dosage and frequency. You can never give our staff too much information. We want to hear everything. Tell us about your dog's personality, any health issues, emergency contacts, and any else that you think would be helpful for our staff. You should also bring food and a leash. We have plenty of comfortable dog beds and toys for everyone to play and sleep. It is generally not recommended to bring a favorite toy as some dogs can become possessive or aggressive of a particular toy. You don't need to bring much else for your furry friend to have a fun sleepover at Safe Journey Dog Boarding!
Our Doggie Boarding Facility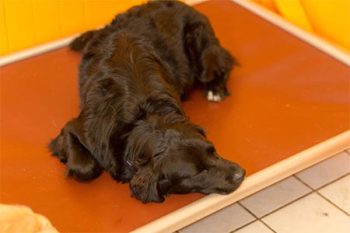 At Safe Journey Dog Boarding, we have 1400 sq ft. of space for your dog to roam around and explore. The outside area is safely secured with proper fencing so your furry friend can run around and play with all of the other dogs. We do offer tours of our home so you and your dog can visit and see everything that we have to offer. We ensure the outside area is entirely pesticide-free, so you won't have to worry about a thing.
And the inside of the house is climate controlled so your pup will be very comfortable during their stay. During feeding time, each dog will be fed individually in a private room to prevent any food fights from occurring. If you have special treats, you want your dog to receive; they will also get those during feeding time.
Any And All Dogs Are Welcome
Our staff is educated, experienced, and has a love for dogs. Our facility is open to all dogs big, small, hyper, shy, elderly, or puppy! If you plan on using a dog boarding facility often, we recommend that you start this process early on. It is easier for a puppy to acclimate to these environments than an older, shy dog. And many of our furry clients have been with us since they were puppies! But don't be afraid if your dog is older or has medical issues. Our staff is well equipped and trained to handle every breed and special need. We provide overnight dog boarding and doggie daycare for all of our Portland residents. We hope that you will visit and see why so many dogs love to go to Safe Journey Dog Boarding! We also offer cage-free dog boarding near Tigard, Portland, Aloha, Clackamas, West Linn, Beaverton, Gresham, Milwaukie, Lake Oswego, and Happy Valley!