If you are going on vacation, or another trip that will keep you away from home for a long time, it is a good idea to have your dog boarded so you know that it will be cared for. For people who cannot get someone to house-sit and watch their dog or dogs, a dog boarding in Portland company is a great solution. Having your dog boarded ensures that it will be cared for by a reliable source while you are away for a while. If you need to take a trip, for business or pleasure, a dog boarding company offers many services that will be a benefit for you.
Constant Watch and Care
Your dog will enjoy frequent contact with the employees working at the boarding house. This will be far better than leaving your pet at home alone where it will be lonely and could fall into a depression. With constant care throughout the day, your dog will be much happier and healthier while you are away, meaning they will far better behave when you do come home from your trip. This will also ensure that your pet will never be lonely for interaction. If you get a house-sitter, it is likely that person will be gone for hours at a time, leaving your dog alone. With a boarding company, your dog will never be alone. Any concerns you have about medications will be covered as well, meaning you can trust them with your sick dog.
Feeding
Regular feeding takes place at a boarding house as well. Dogs are fed one at a time to ensure they are getting the proper amount of food, and any treats you bring along for your pet will be given during the feeding time as well. This is far better than leaving a bowl of food for your pet to eat whenever it feels like it. With set feeding times, your pet will get a better diet and be far healthier when you return from your trip, ensuring there are no lingering negative after-effects. A boarding house will even take any diet concerns you have to heart, feeding certain amounts or using special foods that you provide.
Climate and Exercise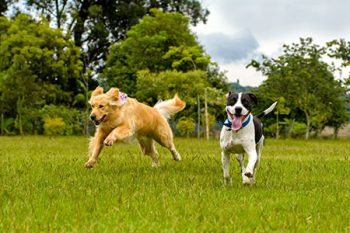 A good boarding house will be climate controlled for maximum dog comfort and will never use pesticides on the natural surroundings, ensuring your dog will be comfortable and healthy while it runs around the home. Most boarding homes let the dogs exercise for at least twelve hours per day, while the business is open. This is much better for your dog than staying inside your home or in a pen while you are gone on your trip. If you have to leave home for a while and need someone to care for your dog, a boarding house is a great choice to ensure your dog's health and happiness.