DOG BOARDING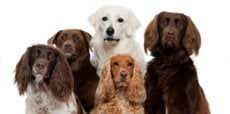 Crate-Free Home Boarding. No Cages, Crates, Pens, or Kennels! How it works: You make a reservation to bring your dog to us during check-in hours. Your pet spends the day and night at our comfortable Victorian home, with us and other dogs. For your dog's protection, our home is climate-controlled and our yard is pesticide-free.
SPECIALIZED SERVICES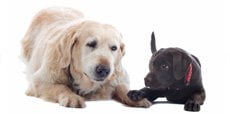 Some of the specialty services that we offer are: Night care for medical professionals and others working graveyard and nighttime shifts. Personalized individual attention to Elderly, Infirm, or other dogs with special medical needs. Our unique environment is perfect for overcoming skittishness and separation anxiety. CURB-SIDE SERVICE FOR THOSE WITH MOBILITY ISSUES
We will make every effort to meet you for curb-side service in order to increase your convenience and minimize disruption to the tranquility of the facility. If you are not on time for your pick-up or drop-off, call us while on your way. Meeting you and your dog at the curb is good for you, good for your dog, and good for all of our four-legged guests. No need to get out of your car. No need to get wet. You can pick-up or drop-off in sixty seconds or less!
SPECIAL NEEDS
We're particularly skilled at taking care of pets with special needs, including older animals with low mobility. We also provide a great environment to socialize your new puppy and will support you in correcting behavioral problems and
obedience training
.
Single Dog Day Care Rates
Single Day
10-pack
15-pack
20-pack
30-pack
40-pack
50-pack
75-pack
100-pack
150-pack
200-pack
250-pack
300-pack
Monthly Unlimited
$17.50
$140 ($14.00/half day)
$200 ($13.33/half day)
$260 ($13.00/half day)
$375 ($12.50/half day)
$480 ($12.00/half day)
$575 ($11.50/half day)
$875 ($11.00/half day)
$1000 ($10.00/half day)
$1350 ($9.00/half day)
$1600 ($8.00half day)
$1875 ($7.50/half day)
$2100 ($7.00/half day)
Provided Upon Request
$28
$250 ($25.00 per visit
$352.50 ($23.50 per visit
$440 ($22.00 per visit
$600 ($20.00 per visit
$740 ($18.50 per visit
$850 ($17.00 per visit
$1162.50 ($15.50 per visit
$1400 ($14.00 per visit
$1950 ($13.00 per visit
$2400 ($12.00 per visit
$2750 ($11.00per visit
$3000 ($10.00 per visit
Provided Upon Request
Multi-Dogs Day Care Rates
*Package prices for all additional dogs are 50% OFF (i.e Two Dog Package is 1.5x listed price, Three Dog Package is 2.0x listed price)
$45 per Day (7am-7pm)
$25 per Half-day (5 hours)
Unlimited ~ Provided upon request
$65 per Day (7am-7pm)
$35 per Half-day (5 hours)
Unlimited ~ Provided upon request
$85 per Day (7am-7pm)
$45 per Half-day (5 hours)
Unlimited ~ Provided upon request
Our clients said
I feel confident that my puppy, Aasia, is well looked after and in good care when I take her to SafeJourney. I strongly recommend them to friends who inquire about her "daycare".