DOG BOARDING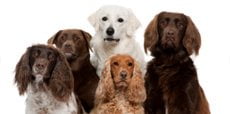 Crate-Free Home Boarding. No Cages, Crates, Pens, or Kennels! How it works: You make a reservation to bring your dog to us during check-in hours. Your pet spends the day and night at our comfortable Victorian home, with us and other dogs. For your dog's protection, our home is climate-controlled and our yard is pesticide-free.
SPECIALIZED SERVICES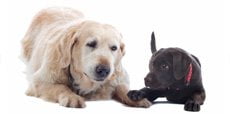 Some of the specialty services that we offer are: Night care for medical professionals and others working graveyard and nighttime shifts. Personalized individual attention to Elderly, Infirm, or other dogs with special medical needs. Our unique environment is perfect for overcoming skittishness and separation anxiety.
Drop-off's
Customers are free to drop off their dog at their convenience anytime during normal business hours 365 days per year from 7am – 7pm.


Pick Up's
Overnight rates cover a 15 - 27 hour window starting at 7am on the day of drop off through 10am on the day of pick up.

For late morning (after 10am) and early afternoon (before 3pm) pick ups a half-day day care charge of $15 will be added to the overnight rate.

For late afternoon (after 3pm) and early evening (before 7pm) pick ups a full-day day care charge of $25 will be added to the overnight rate.

After Hours Pick-Up's
After hours pick up's can be set up by appointment after 7pm but prior to 9pm.

For after hours pick up's (after 7pm closing) an additional overnight charge will apply.


Time Spans Covered By Overnight Rates
All overnight rates cover drop offs as early as 7am through 10am on the day of pickup.

Maximum time allotted for an overnight rate is 27 hours (7am - 10am the following day).

Minimum time allotted for an overnight rate is 15 hours (7pm - 10am the following day).

Before and after hours pick ups may result in additional charges.

OFF SEASON
$35/night
---
All Dates Not Otherwise Noted
$35 per Night
$225 per Week
$700 per Month
SUMMER SEASON
$45/night
---
June 20th - September 10th
$45 per Night
$275 per Week
$800 per Month
HOLIDAY SEASON
$50/night
---
Nov. 15-Dec. 5 & Dec. 15-Jan. 5
$50 per Night
$300 per Week
$900 per Month
Our clients said
Thank you so much for your obvious stellar care of Daphne & Geoffrey. They came home happy and healthy. Daphne had not even gained weight, a constant concern. They didn't even smell bad. I would not hesitate to recommend Safe Journey.